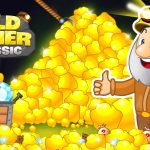 Gold Miner is a classic arcade game that has been popular for many years. In the game, the player controls a miner who is trying to collect gold and other treasures from the earth. The game requires skill and strategy, and is a lot of fun to play.
Gold Miner is a game that is easy to learn but difficult to master. The rules of the game are simple: the player controls a claw that can be moved back and forth on the screen using the arrow keys. The claw can be lowered down into the ground to grab onto objects like gold nuggets, diamonds, and other treasures. The objective of the game is to collect as much gold as possible within the time limit.
As the game progresses, the player will encounter obstacles that make it more difficult to collect the gold. These obstacles include rocks that must be cleared out of the way, as well as animals like moles and bats that can steal the player's gold. In addition, the player must avoid grabbing onto items that are not gold, as this will waste valuable time.
The game is divided into levels, and each level has a certain amount of gold that must be collected to advance to the next level. The player must be strategic in their approach to collecting the gold, as there is a limited amount of time to complete each level.
One of the unique features of Gold Miner is the ability to upgrade the player's equipment as they progress through the game. This allows the player to collect gold more quickly and efficiently, and makes it easier to complete the later levels of the game.
Overall, Gold Miner is a fun and challenging game that requires skill and strategy. By mastering the rules of the game and upgrading their equipment, players can collect as much gold as possible and become a true Gold Miner champion.