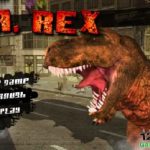 LA Rex action gaming guide
One of the games is very attracted to the young it's LA Rex game, it's called cannibal dinosaur; Here I would like to show you LA Rex action gaming guide, very addictive. LA Rex is one of the action games, mainly for men. It will be a bit difficult at the beginning if you play, so see the tutorial on how to play this LA Rex game.
>> Link play right here: https://123-games.org/play-game/game-la-rex/
LA Rex action gaming guide
# 1: Introducing LA Rex Extreme Extreme Action Games
If you've ever played games like the carnivorous shark, you can not ignore the LA Rex action-eating dinosaur game. It is one of the violent games a bit, causing bloodshed should be only for children over 10 years old offline.
LA Rex is a great entertainment game, it does not take long, you can play whenever you have a smartphone that can connect to the internet. The game is completely non-download so you play extremely comfortable without having to worry about not having enough memory to download new games that can be played.
LA Rex will definitely bring you the best entertainment experience, not too difficult to play, your task is simply to control the dinosaurs to eat people on the way.
If it is too hard to play, please read the tutorial of this article.
# 2: Highlights of this game
– With a nice interface, extreme 3D graphics that players can not take their eyes off the screen.
– LA Rex is a free game you can play any time you want.
– LA Rex game is fully integrated on the computer, and mobile devices such as Iphone, Ipad, Android, Window phone, etc.
– As one of the most addictive games, there are 16 levels, enough for you to experience this game without the boredom.
– Live sound makes you play more fun.
# 3: How to play action game LA Rex – Cannibal Dinosaurs
LA Rex is a cannibal dinosaur game, your goal is to eat as many people along the way as possible, as this will help you to quickly level up.
– If you use a computer to play, it seems a bit difficult for young children, but adults seem easier. Use the 3 arrow keys: up, forward, back on the keyboard and mouse to control the dinosaur. The arrows mean that the dinosaurs will fly, the forward arrows help the dinosaur move forward; Backward arrows will help the dinosaurs to back down and turn their heads to eat human flesh if they pass through without eating. The computer mouse will help the dinosaur eat human meat, on the way, to quickly eat human flesh, left-click the computer throughout the journey to reach humans, the dinosaurs can eat immediately without being overlooked. You can also replace the 3 arrow keys up, forward, backward by 3 keys A, W, D.
– If you use your phone to play, it will be easier, just touch the screen to play.
– Note, kill anything on your way, if meet the person eat meat, if the car to smash it.
Here, I have instructed you how to play action game meat dinosaur LA Rex is very detailed right? Have fun playing it.
>> See more: How to play game Apple shooter on the computer