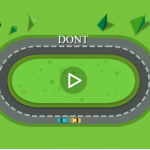 Action games are attracting Vietnamese children
One of the most popular games for kids is Don't Crash and Flappy Dunk; Let's find out immediately two action games are attracting Vietnamese children.
Action games are attracting Vietnamese children
1/ Don't crash
First, let's see what the Don't crash action game features superiority. Don't crash is one of the addictive racing game. It was released less than a month ago but this action game has been a lot of kids love.
Games are not too difficult to play, players only need to control their cars so as not to touch the opponent's car. To do this, require the player to train more hands to achieve high scores.
Don't crash game is considered by many players to be extremely entertaining game, you can play online at any time without having to download the computer.
Another plus point of this game is that it's free. In addition, the game also allows you to save points directly online to know who the players have scores to reach to help you strive for the high score as they. If you are wondering what game to play for, this is definitely one of the games you deserve to play in 2018.
Link play right here: https://123-games.org/racing/dont-crash.html
2/ Flappy Dunk
The second game I want to introduce to the kids is the Flappy Dunk action game. This is one of the extreme inhibitory games. If you remember the game Flappy Bird was a hit in Vietnam and other countries in the world, the game Flappy Dunk is no less dramatic.
Flappy Dunk is one of the hottest games, as adults and kids can play.
Flappy Dunk is a game where you will be basketballs with wings like a bird and fly in the air to cross the red circles on the fly.
To achieve a high score in this game, you must be very skillful, know the right time to jump into the circle in the air. If you do not cross those circles your wings will break; At the same time you will have to play again from the beginning.
This is one of the most stressful games of all time. If you are going through challenging games then this is one of the great games to try out.
Link play right here: https://123-games.org/action/flappy-dunk.html